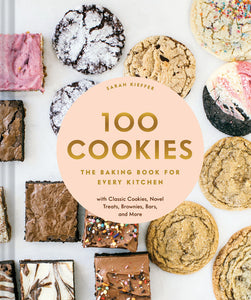 Featured in Food & Wine, The Kitchn, Cup of Jo, Wall Street Journal, Wine Enthusiast, Food52, Bake from Scratch Magazine. Nominated for a 2020 Goodreads Choice Award for Best Cookbooks

From celebrated blogger Sarah Kieffer of The Vanilla Bean Baking Blog !

100 Cookies is a go-to baking book featuring 100 recipes for cookies and bars, organized into seven chapters.

Chocolatey, fruity, crispy, chewy, classic, inventive-there's a foolproof recipe for the perfect treat for everyone in this cookie recipe book.

• Introduces innovative baking techniques
• Includes an entire chapter dedicated to Kieffer's pan banging" technique that ensures crisp edges and soft centers for the most delicious cookies
• Nearly every cookie dough recipe is accompanied by a photograph.

Dessert recipes range from the Classic Chocolate Chip made three different ways, to bars, brownies, and blondies that reflect a wide range of flavors and global inspiration.

This is the comprehensive-yet-charming cookbook every cookie lover (or those who love to bake cookies) needs.

• Highly giftable with a textured case and a ribbon marker
• Recipes include Marshmallow Peanut Butter Brownies, Olive Oil Sugar Cookies with Blood Orange Glaze, Red Wine Cherry Cheesecake Swirl Bars, and Pan-Banging Ginger Molasses, S'mores Cookies, Snickerdoodles, and more
• A great pick for the home baker in search of a new bake sale recipe or someone who just loves cookies, as well as fans of Sarah Kieffer's blog and Instagram
• Add it to the shelf with cookbooks like Sally's Cookie Addiction by Sally McKenney; Dorie's Cookies by Dorie Greenspan; and The Perfect Cookie: Your Ultimate Guide to Foolproof Cookies, Brownies & Bars by America's Test Kitchen"
Sarah Kieffer is the self-taught baker, photographer, and blogger behind The Vanilla Bean Blog . She lives in Minnesota.