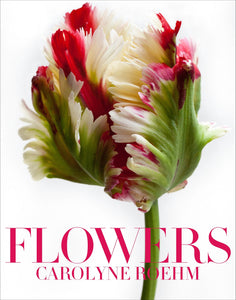 It has been more than a decade since Carolyne Roehm first shared her love of gardening and flower arranging. Now, for the first time ever, she turns her own photographic lens to that passion with 
Flowers,
showcasing more than 300 images of the varieties in her abundant gardens, all captured at their most vibrant and exquisite moments throughout the season.
With a gardener's intimate understanding and a designer's elegant eye, Roehm shows us the flowers she has cultivated for decades in and around Weatherstone, her historic Connecticut home. While alternating dramatic close-ups with portraits of lovely arrangements and sweeping views of her land, Roehm writes with wit, emotion, and affection of what flowers have meant to her, as well as of the joys and travails of the committed gardener's life.
What began as a casual hobby ultimately became a multi-year endeavor, as Roehm used her camera to explore the special relationship a gardener enjoys with her carefully nurtured beauties. The outcome is a remarkably personal visual essay: sumptuous, surprising, and as revealing of the sensibility behind the camera as the magnificent species that stand before it.
This beautiful objet d'art—a flower garden in a book—is Carolyne Roehm's most significant and singular volume yet.